Vineyards & Winemaking
Land has a story to tell. People write history above it and the land writes the story below it. Nathan Pratt saw the magic on this plot when settlers first reached St. Helena. Luther Burbank saw the potential in this estate and helped Mr. Pratt plant a variety of apple, prune and walnut trees, which became cash crops during prohibition. Today, Saint Helena Winery is one of Napa Valleys "hidden gems" quietly nestled in the St. Helena wine appellation. Our area within Napa Valley is renowned for incredible Cabernet Sauvignons, and our estate honors that tradition with 12 acres planted to this grape variety. Our small parcel of land contains three distinct soil variations of loam derived from alluvial fans from the surrounding mountain ranges and the river that borders the estate.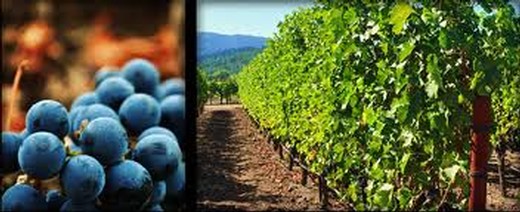 Using four different clones of Cabernet Sauvignon on multiple soil types provides the wine making team of Aaron Pott and Elizabeth Tangney with a variety of aromas, flavors, and textures that capture the estate terroir. The Bacchus clone is planted in the gravel beds left by the Napa River centuries ago and the site produces small intense berries with strong tannin structure. Clone 337 and 191 are planted on the mixed gravel loam to create opulence in the mid palate, and See clone is rooted in dense clay giving it the ability to retain acidity and bright fruit in the heat of summer. Our vineyard team has been perfecting the art of precision farming for decades and is intimately familiar with every vine on the Saint Helena estate. Sustainable farming practice leaves the land intact and with little footprint from the efforts above ground.
As the time of harvest approaches, our team walks the rows daily to determine which are ready to pick. The selected clusters are hand picked, de-stemmed and sorted then placed in T-bins. Each bin enters a cold soak for 10 days to extract all of the heady color, flavors and aroma. The juice is allowed to ferment using native yeast before being transferred to new French oak barrels from some of the finest coopers including Bossuet, Darnajou and Seguin Moreau. After a two year rest in oak, the individual lots are tasted and the complex process of blending begins to define each estate wine. The raising of wine in oak, and balancing the fresh flavors and textures in elegant expressions is the art of winemaking as expressed by Aaron and Elizabeth. The result is a celebration of the efforts in the vineyard preserved and enhanced with patience and precision.