---
Also Available:
Sympa Estate Cabernet Sauvignon 2008 1.5 L $275.00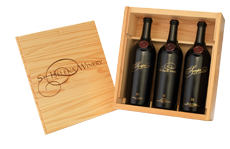 The Sympa Vertical Collection:
Enjoy three vintages of Sympa, including the just released 2008 Napa Valley Estate Cabernet. All of these wines will age beautifully and add an element of exclusivity to your collection.
Includes:
2006 Sympa Estate Cabernet Sauvignon
2007 Sympa Estate Cabernet Sauvignon
2008 Sympa Estate Cabernet Sauvignon
Ravenous Cabernet Sauvignon 2008 750ml $50.00
The 2008 Ravenouse is big in fruit and displays flavors of cassis, currant and mocha. The creme de cassis and inky blackberry from Petite Sirah and dark chocolate and blueberry from Cabernet Sauvignon blend beautifully to create this wonderful wine.
Scandale Cabernet Sauvignon 2008 750ml $75.00
The Scandale 2008 Estate Cabernet Sauvignon begins with notes of figs, plum and German chocolate cake. The front and mid palate are rich in cocoa, cherry and toasted cedar. It finishes with very well rounded tannins. The overall pleasant gradual transistion from nose to finish will leave you hard pressed to let this very enjoyable wine lay down to age.