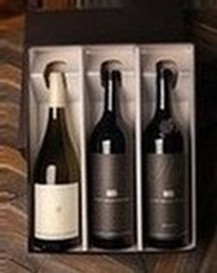 FED Holiday Cellar Starter
One bottle of each of our library release wines: The 2011 Sympa Reserve Cabernet, 2011 Estate Cabernet and 2015 Sonoma Mountain Chardonnay custom packed in an elegant black linen box ready for gifting.
2011 Sympa Reserve Cabernet Sauvignon
The 2011 Sympa Reserve Cabernet Sauvignon is a cellar vintage that will age beautifully in the bottle. Much like the 1998 vintage, this is one that you can share with friends and collectors in 3-5 years to demonstrate the ability Napa has to create long lived wines.

Aromas of black cherry, violet and stone prelude complex flavors of black currant, toasted pecan, caramel, coffee, roasted game and subtle cardamom. The wine is silky and soft with a seductively smoky finish.
2011 Estate Cabernet Sauvingon
2011 Estate Cabernet has aromas of bright red fruit and opens with flavors of Bing cherry, red currant and black plum. The silky-smooth mid-palate shows subtle notes of sage and cocoa with creamy caramel on the lingering finish. This will be an age worthy wine to enjoy now or well through 2025.
2015 Sonoma Mountain Chardonnay
Small production wine made by Aaron Pott and Elizabeth Tangney from fruit grown on Scopus Vineyard, Sonoma Mountain AVA. The vineyard is farmed by Ulises Valdez, grower for many Paul Hobbs wines also. Delightful stone fruit character with notes of lemon zest, pie crust and floral blossoms, with a clean and crisp finish. Perfect for summer sipping and delicious with grilled seafood and mild cheeses.