2006 Sympa Estate Cabernet Sauvignon 750ml
---
Also Available:
Sympa Estate Cabernet Sauvignon 2006 1.5 L
$250.00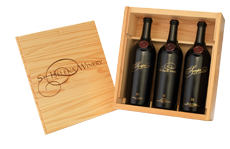 The Sympa Vertical Collection:
Enjoy three vintages of Sympa, including the not-yet-released 2008 Napa Valley Estate Cabernet. This wine is only available through the Vertical Collection until January 2013. All of these wines will age beautifully and add an element of exclusivity to your collection.
Includes:
2006 Sympa Estate Cabernet Sauvignon
2007 Sympa Estate Cabernet Sauvignon
2008 Sympa Estate Cabernet Sauvignon
Ravenous Cabernet Sauvignon 750ml $50.00
This 2007 Ravenous is a powerful, sweet and fruity explosion. BIG on fruit, this wine combines the best characteristics of all three fruits. The concentrated crème de cassi, and inky blackberry elicited from the Petite Sirah, mixed with all the power of the mocha, currant, dark chocolate, and blueberry from the Merlot and Cabernet Sauvignon, with a smooth and silky tannin structure that finishes well in the palate.
Scandale Cabernet Sauvignon 750ml $75.00
Scandale 2007 is deep in color, very dense and concentrated. It has a nose of red cherry, red currant, pomegranate and black truffle with a hint of sage. Lively on the palate, it has flavors of dark chocolate, black cherry, blueberry and juicy red plum. This wine is very complex with tannins that are smooth, round and succulent. It is an excellent representation of an exceptional vintage and will age very well. 97% Cabernet Sauvignon, 3% Petit Verdot.